Continues sneak peeking on Japan market
Demand for paper packaging materials made from wood pulp is increasing among major paper manufacturers. Most of them are for food products such as natural chocolate, and the movement to reduce plastic films is spreading to containers used by airlines and coffee chains. There is a problem of marine plastic waste in the background, and the Plastic Resource Recycling Promotion Law (Plastic New Law) that came into effect in April has been a tailwind. To build a sound-cycle society and decarbonize in 2050, Japanese manufacturers will step up the accelerator to expand sales and research and development of "paper-based" products
Nippon Paper Industries: Make the scent of additive-free chocolate alive
     "Sense of quality and texture uniqueness from paper feels good. Including a sense of security that you can feel from the handcraft, soft image, and the shape of the contents in combination with printing and design." Katsunori Tanaka, the representative of the additive-free chocolate specialty store "コンチェ/Conche" (Takamatsu 1-chome, Suruga-ku, Shizuoka City), talks about the appeal of paper packaging.
(on the righthand) Katsunori Tanaka, who devotes himself to making "Conche" craft chocolate from Cacao beans.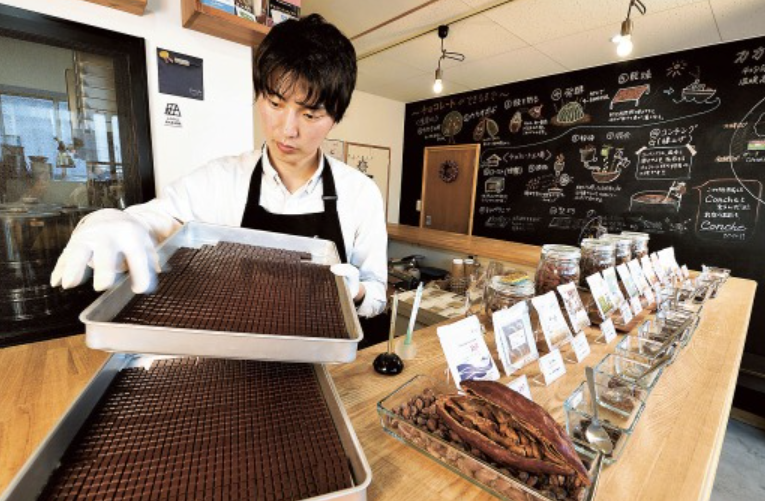 Image by Mercari-shops.com
With the cooperation of the company, Nippon Paper Industries participated in a food exhibition in Tokyo in mid-April. Chocolate was packed in a colorfully printed paper bag and exhibited, and the packaging material "Shield Plus", which has a function of retaining freshness and fragrance like plastic and a waterproof function, was appealing.
A special coating is applied to the inside of the base paper (base material) derived from biomass. It emits less carbon dioxide (CO2) during the production process than plastic, and is a biodegradable recycling product. In addition, customers can easily print and enclose with a color printer or heat seal device.

Panning the focus to USA,
Image by Thaipackmagazine.com
2021 AmeriStar award winning "Rounded-corner Beer Case" of Estrella Damn's–Cut down 99 MT of plastic yearly.
As its brand work to reduce or replace plastic in packaging, Estrella Damn partnered with Graphic Packaging International (GPI) saw an opportunity to replace plastic with sustainable paperboard and disrupt the beverage aisle with a Tight-Fit and striking carton, as it made from GPI's AquaKote TM SUS board, using virgin fibers sourced from responsibly managed forests (FCS). It is 100% recyclable and easily recycled post-use to cater to consumer demand for recyclability—Then annually, 99 tons of plastic shrink wrap packaging will be eliminated from market.
Meanwhile, In Brazil
Nestlé has adopted paper straws across its single-serve, ready-to-drink beverage range – part of a global plan to reduce its use of single-use plastics and make all of its packaging recyclable or reusable by 2025. Despite the challenges, thanks to collaboration with colleagues across the business in Brazil. Nestlé Brazil now uses 100% paper straws, covering brands like Nescau, Nesquik, Ninho, Farinha Láctea.
The success of their research work is now being seen in other markets as well. In Colombia, the Nestlé team eliminated 10 million plastic straws and wrappers and in Malaysia and Indonesia, teams eliminated the use of 70 million plastic straws. In two years, Nestle has removed more than 1700 tons of plastic by eliminating plastic straws.
Turnaround to Germany…100% sustainability, 0% plastic
Plastic-free toothbrush packaging for Dr. BEST and Aquafresh wins 2 Awards from the German Packaging Institute and the 2021 AmeriStar package.
Images by (Top) Karlknauer.com and (Bottom) Thaipackmagazine.com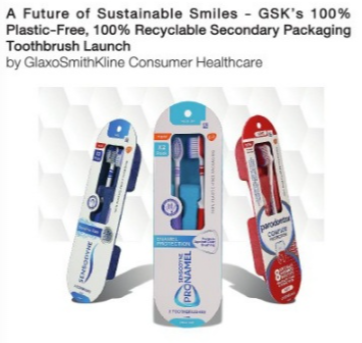 Black Forest, together with GlaxoSmithKline and M+C Schiffer launched a packaging with innovative patched window made of sustainable cellulose fibres – no longer densely packaged in a plastic cover, which the packaging specialist Karl Knauer used for the toothbrushes of the Dr.BEST and Aquafresh brands, shows how sustainable, effective and above all plastic-free the future will be in the cosmetics and drugstore shelves.This packaging can be fully disposed of in the paper waste without being separated. Further, it was awarded the renowned German Packaging Award 2021.

If you LIKE it, please feel free to share with others. Otherwise, giving us feedback on any ideas that can leads to new opportunity together.