Sneak peek on Green packaging around the globe
From the new behavior of consumers who are not only health conscious but also care more about the world according to Kantar's research on consumer behavior, more than 63% of Thais identified plastic waste as one of the Top 5 environmental problems in Thailand, indicating that Thais are paying more attention to plastic waste. The Pollution Department of Ministry of Natural Resources and Environment has presented data that in 2019, Thai people generate up to 1.14 kg of plastic waste per person per day and there is an estimated 27.04 million tons of plastic waste in Thailand per year. Maybe it's a good timing for us to look around our neighbors to see what are they up to relating packages for more sustainable future?
Let's look into Thailand,
Waste-Free bags from the election campaign banners of Bangkok's newly elected governor, Chadchart Sittipuntwhich — became Talk of the town. In addition, a complaint against him has been raised from political activist Srisuwan Janya, who alleged that his campaign banners amounted to vote-buying as voters could recycle them into bags and aprons.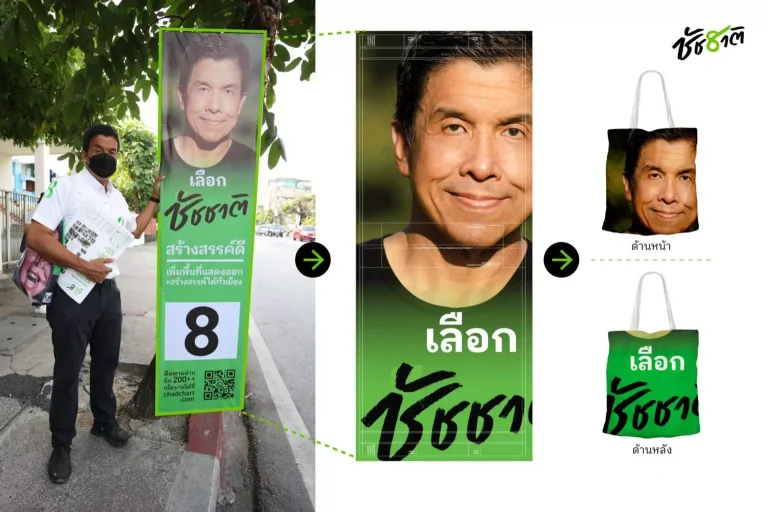 Image1 by Twitter.com/chadchart_trip
Image 2 and Image 3 by Komchadluek.net
---
Next, Mass-consumer products sector such as Nestlé Thailand also made a big approach in the Green packaging with 89% of its packaging has become recyclable or reusable to help consumers make behavioral adaptation along the way with us starting from little things in daily lives like adopting eco-friendly packaging. That is why Nestlé drives sustainability strategy with "Every Little Act Matters" Campaign that are translated into 5 VDO stories "Little act can change the world" (NESTLÉ Thailand) to make people realize that it is not difficult to take part in creating sustainability for the planet.
Image by Positioningmag.com
This was the outcome from the hard work of Nestlé Research Center in collaboration with domestic and international suppliers to research and develop the laminated stick for the first time in the world coffee industry. The change of NESCAFÉ Protect Proslim to laminated packaging has already been implemented since 2020, after that NESCAFÉ BLEND and BREW products started in2021. This laminated stick(sachet) is made from mono-structure plastic called Polyolefin with proprietary technology. They can be taken in to recycle process without undergoing plastic separation process. In addition, the new laminated stick is developed to effectively maintain quality and freshness of the coffee within the stick and keep the flavor and aroma until it reaches consumers.
Facing the East at Japan,
Oji HD: Developed "Non-edible material" for in-house cost reduction
Tailwind on Plastic reduction to the paper manufacturers with various strategic sales expansion "Shifting to Paper"
Oji HD has developed a plant-derived "polylactic acid laminated paper". Providing sample sheets and proposing their use for paper cups, etc.        
At Oji Holdings (HD), paper packaging materials made from pulp are spreading to the products of the Nestlé Group, the world's largest food and beverage company. It was used for packaging chocolate confectionery "KitKat" in Japan, coffee "Nescafe" in Thailand, and powdered malt beverage "Milo" in Malaysia. The uniform thin pulp mold "Papi-press" has been applied as a lid for paper cups used in the ANA Group's international economy class. Furthermore, this spring, they succeeded in developing a plant-derived polylactic acid laminated paper and started providing samples. Laminated paper for paper cups and milk cartons is a composite material made by melting and extruding plastic on a paper base material and laminating it, and has generally been regarded as combustible waste. By converting petroleum-derived plastics to biomass materials, the environmental burden can be reduced. The polylactic acid used this time is a product purchased from the outside, but there is no doubt that the cost merit of mass production will be created if the company's own products are used in the future.
Next episode,
Sneak peek on Japan#2, USA, Brazil and Germany are coming…